The Pasta Teller – Chapter 1: Trofie
"Trofie" is a typical pasta shape of Liguria, one of the regions of middle-northern Italy, mainly in the area of Tigullio, precisely in Recco.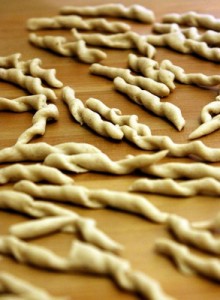 It has an unusual shape, similar to the wood shavings of carpenters. In the past, women were used to make their own trofie from the leftovers of previously made dough for other homemade preparations, so as not to waste them. The traditional tool used was the "cua bicelä", also called "buffetto", which is a wooden knitting needle. A little amount of dough was rolled around the needle and then the women pressed it with their fingers or the palm of the hand.
The origin of the name is uncertain, but it is possible that it derives right from this kind of preparation. In fact, the Genoese dialect word "struffugiâ" means literally "to rub", describing the basic hand movement necessary to shape the pasta.
Another theory is that the name has Greek origins, coming from the word "trophe", which means "nourishment", or "torcere", which means "to twist".
The typical Genoese recipe requires the trofie to be dressed with the Green Pesto, one of the most famous pasta sauces, which is nowadays the icon of Genoa and Liguria themselves. The green pesto is made with basil, oil, pine nuts, Grana Padano and Pecorino Romano. It has a very simple and modest origin from the Medioevo, when the poor people tried to boost the taste of their  meals by adding some herbs to them. The first proper recipe of pesto dates back to the 18th century. An alternative is to boil the trofie with potatoes and green beans. The unique shape of trofie allows them to be enveloped perfectly by any sauce.
Since 1985, a festival focused on trofie is organised yearly in Sori to celebrate this delicious and meaningful food.