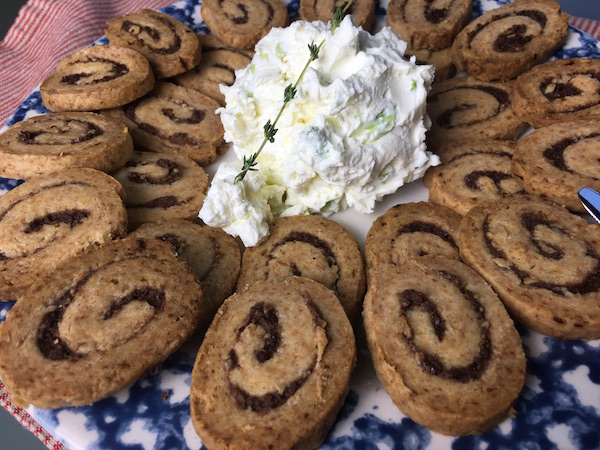 Black Olives Biscuit with Spring Onion flavoured Cream Cheese
The most important part of a dinner with friends is the cocktail before the main course: it helps to the warm the atmosphere, making everyone feel comfortable and relaxed. However, sometimes it can be difficult to find an original idea for the appetisers!
Instead of the usual crisps, nuts and olives, try these delicious and nice Black Olives Biscuits, and serve them with this creamy flavoured cheese!
Black Olives Biscuit with Spring Onion-flavoured Cream Cheese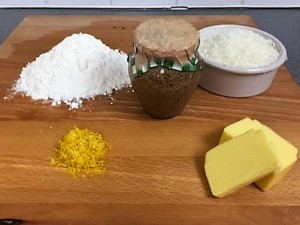 Ingredients for the biscuits (around 25 pieces):
150gr plain flour
90gr butter
50gr grated Parmigiano Reggiano
90gram Black Olives Tapenade
the zest of one lemon
salt
water
Ingredients for the cream-cheese
200 gr cream-cheese
3-4 spring onion
Procedure:
Make a dough by mixing the flour, lukewarm butter, Parmesan, zest and a pinch of salt. Crumble it. Add a little bit of water and mix again until you create a smooth ball of dough.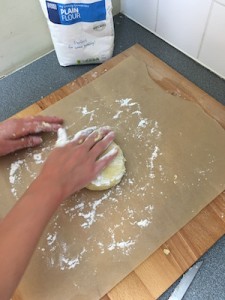 Roll the dough, shaping it to a rectangle 5 mm thick. Spread the olives tapenade on it, being careful to leave a centimetre on the long sides.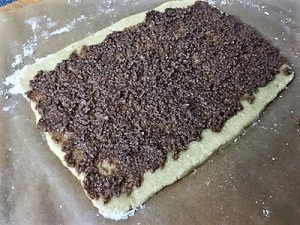 Roll it up and wrap it in cling film and put in the fridge for around 2 hours.
Afterwards, cut the roll with a knife, obtaining 5mm thick slices, and place the biscuits on a baking tray covered with baking paper.
Bake for 20 minutes at 180°.
Meanwhile, slice the spring onion and stir it with the cream cheese.
Serve all together!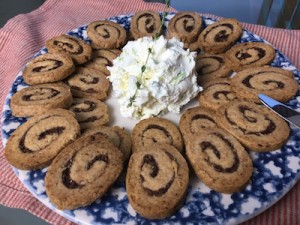 Enjoy and Buon Appetito!