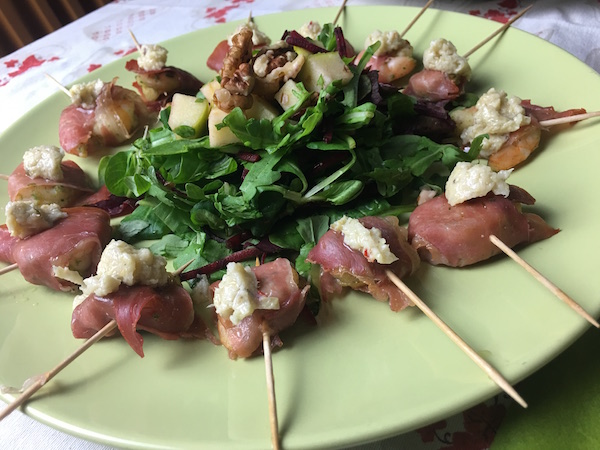 Prawns Wrapped in Parma Ham with Artichokes Patè and Autumnal Salad
I really love prawns and shrimps because in my opinion, unlike other kinds of seafood, they go well with several unusual ingredients, thus boosting their taste. This time I decided to match prawns with earthy flavoured-food like Parma ham, artichokes and an autumnal salad, enriched with green apple and walnuts. Absolutely delicious!
Prawns and shrimps are a healthy food choice in general, since they are a low-fat source of protein. They contain just 101 calories per serving, over 19 grams of protein and only 1.4 grams of total fat, mainly unsaturated fats. These can help improve your blood cholesterol levels.
These seafoods also contain omega-3 fatty acids which help reduce inflammation, risk of heart disease, cancer and arthritis, while improving brain function. However, they are also rich in cholesterol, so it is not recommended to consume them often.
A serving also contains calcium, potassium, phosphorus, vitamins A and E. They are naturally high in sodium. A high sodium diet can increase the risk of hypertension, heart disease and osteoporosis. Anyway, remember that the recommended intake limit for sodium is 1,500-2,300 milligrams for adults. So be careful when adding salt to prawns because even a little extra can put you over the daily suggested limit.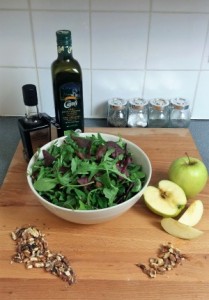 Prawns Wrapped in Parma Ham with Artichokes Patè and Autumnal Salad
Prawns Wrapped in Parma Ham with Artichokes Patè and Autumnal Salad is a healthy and delicious dish that you can enjoy with your family and friends.
Ingredients
Prawns (as many as you want! I decided on 3-4 prawns for each person)
Parma ham (a slice for each prawn)
Rocket or Mixed salad
1 and 1/2 Green apple
Walnuts
Procedure
Clean the prawns: remove the head, peel the shell and run a sharp knife along the back of the prawn, pulling the vein away.
Cook the pranws in a pan with some oil and salt. Add chieves and garlic if you like. When the prawns are ready, remove them from the heat. Set aside to cool.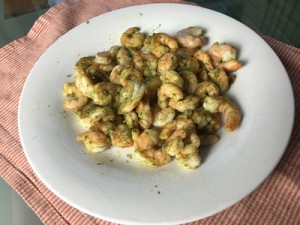 Then point wrap each prawn in the parma ham and secure them with a skewer. Place the skewers on a tin covered with baking paper and put in the oven at 200° with the grill for 10 minutes, or until the ham becomes crunchy.
Meanwhile, cut the green apples into tiny cubes and mix them with the salad and walnuts. Dress the salad with winegar, oil and salt as you prefer.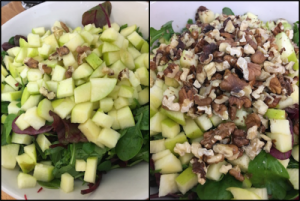 Using a teaspoon, put on each wrapped prawn a tiny bit of the artichokes patè and serve with the salad as a side!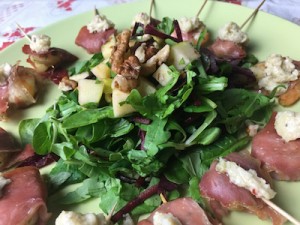 Enjoy and Buon Appetito!!